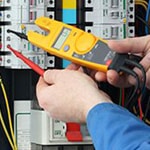 INSPECTION AND TESTING
It is essential especially when you move to a new commercial or domestic premises to have the electrical wiring checked regularly in order to have faults identified and repaired prior to them becoming an issue and also to pre-empt any future electrical problems as all electrical installations tend to deteriorate with usage as time passes.
Our qualified, insured and RECI registered team provide full and all-encompassing electrical testing and inspection services for both domestic and commercial properties (including rented accommodation).
With a wealth of experience in the field, we can help you to reduce the occurrence of serious faults and assist you in the replacement of old systems following a breakdown or electrical failure.
VISUAL INSPECTIONS
A visual electrical inspection is a survey of your electrical installation and can provide a good overview of your current electrical set-up. It is especially useful in identifying electrical defects, damage and deterioration of installation and can help to identify if current RECI safe electrical standards are being met in the property. This type of inspection, however, does not involve any hard wired circuit testing and is not intended to be used as a replacement for detailed formal Electrical Inspection Condition Reports.
Our electricians do not use this test alone to determine if the installation is entirely safe for continued use.
Contact us today to book an appointment with one of our experienced electricians if you think you may have a faulty wiring system.
COMMERCIAL ELECTRICAL TESTING
We can provide electrical testing services at your office, retail outlet, school, hotel, residential home, or small domestic property and we offer a cost effective and professional service.
We will test your installation for strength, damage, wear and tear, excessive electrical loading, corrosion, integrity, and compliance with relevant Regulations.
Contact us if you require:
• Electrical installation certification
• Periodic testing and inspection reports
• Commercial or domestic electrical testing