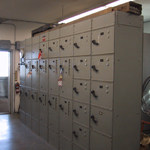 Commercial Electricians Dublin
Our electricians are capable of handling commercial and domestic repairs, installations and replacements.
Some of the affordable and efficient commercial electrical services we offer include:
CCTV installation
Lighting installation, repairs, and replacements
Data cabling system installation
General electrical repairs, replacements, and maintenance
If you would like more information on CCTV or Data network installations at your home or business premises you can call us today to speak to our experienced team of electricians who can provide advice on set up and costs of same.
Lighting Installation
We not only install lighting at domestic and commercial premises, but also upgrade existing lighting installations. We offer an affordable and professional service ensuring that our clients are fully consulted and involved in the design process prior to handling any new or upgrade installations.
Electrical Maintenance
Our electricians handle maintenance for a number of different commercial and domestic properties. They are on call 24/7 to carry out emergency repairs too and handle day to day maintenance issues such as: faulty thermostats, broken light bulbs, power outages, new lighting installations, data cabling maintenance, cooker switch replacement and home network set-up.
If you require electrical maintenance for your domestic or commercial properties call us now to discuss our best available rates and maintenance package options.
Commercial CCTV installations
With our years of experience, our team are experts in designing and installing commercial CCTV systems. We will work with all types and sizes of Dublin businesses. Catering for all business sectors to help protect against theft and any possible break-ins. With our security systems, you can record and monitor inside and outside of the premises. We are a RECI registered and fully insured electrical company, so you can rest assured of our professionalism and expertise. We can offer you CCTV solutions that will suit your needs and budget requirements. Most CCTV systems are now much more advanced than ever before, so you can now control and monitor your footage and system, from your office on the PC or even your smartphone from anywhere in the world. Get in touch with one of our specialists today for any further information and to discuss which system would be best suited to your needs.