Electrical Maintenance Services in Dublin
Electrical installations need to be maintained after a certain period of time following initial installation due to wear and tear and levels of usage.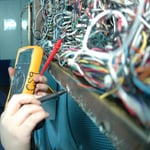 Regular maintenance not only helps to identify old equipment that may need to be replaced but also helps to prevent and pre-empt certain faults from occurring. Maintenance is important not just for safety concerns but also to help reduce the risk of loss to your business profits caused by any power failures! We normally recommend that our clients or residents in Dublin have maintenance checks carried out on their electrical installations at least once or twice a year.We can provide complete solution maintenance services for both commercial and domestic properties including:
planned preventative maintenance
reactive call-out and emergency maintenance
emergency lighting and testing maintenance
We offer electrical maintenance services at very affordable rates and we always carry a fully stocked van, our team of experts can carry out repairs if necessary immediately, depending on the level of urgency. If you are looking for a fast and effective electrical company, then we are the people for you. With having years of experience in the industry we can handle any type of electrical task that is put in front of us. All our electrical parts are sourced from trusted and licensed traders to ensure an effective and affordable service to all our clients. Get in touch with us today and speak to one of our electrician specialists on all our electrical maintenance services. We can offer you a free no obligation quote and we are available 7 days a week. Contact us today.
Electrical Maintenance for Commercial and Industrial Needs
Electrician Dublin takes pride in our top-class service and workmanship to each customer. For all commercial electrical needs, we can deliver competitive rates and a fast and efficient service. We provide top industrial services for every customer who is seeking maintenance and emergency service solutions. We understand that some electrical work may need to be done during business hours. Our staff can provide an efficient and timely service that will reduce disruption during business operating hours. When it comes to maintaining or improving machinery, our team can identify any problems before they arise. We take pride in our work and will ensure the highest standards of workmanship. You are always in good hands with us as safety is our number one priority. If you are interested in using our service, then give us a call and let the specialists do the job.
Electrical Inspections
It is essential especially when you move to a new commercial or domestic premises to have the electrical wiring checked regularly in order to have faults identified and repaired prior to them becoming an issue and also to preempt any future electrical problems. Our fully qualified and registered electricians always adhere to the RECI safe electrical standards when performing our electrical tasks.
Our fully qualified and registered electricians always adhere to the RECI safe electrical standards when performing our electrical tasks.
Contact us today if you think you may have a faulty wiring system.