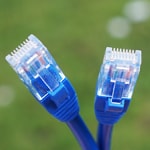 DATA CABLE AND NETWORK INSTALLATION
With the advent of new technologies including Voice over IP, Ethernet and Gigabit and the threat of cyber-attack, the need for secure and efficiently designed and installed cabling systems is greater than ever. Ever increasingly data and telecommunication installations are forming part of our client's requirements within electrical installations particularly in home offices and office refurbishments.
We specialise in providing cost effective network set-up, data cabling (or structured cabling) design, installations, and support throughout Dublin.
We undertake network installations from one or two data points up to several hundred and set up all of the infrastructures in between. Whether you want to create a network for a small business with ten computers or home network, we can help you design the most suitable solution for your needs as well as provide and install the data cabinet, copper cabling, trunking and wiring required to establish same.
We have experience in establishing networks and connectivity projects for a variety of commercial and domestic clients, on time and within budget and always to the very highest standards.
WHY US:
Dublin based
Flexible out of office hours installations (if required)
Experienced electricians and data engineers
Quick response times
Bespoke installations
Neat and stylish cable tidy solutions
Installation of additional electrical sockets (qualified electricians)
One single invoice
High quality parts
DATA CABLING
WHAT IS IT?
Data cabling or otherwise known as structured cabling describes the communication cabling within a building and describes the standard of installation and systems used.
Almost every device within a commercial building relies on structured cabling for power. This is known as POE or Power over Ethernet. Some types of LED lighting are set to be powered via network cabling in the future as well as laptops powered directly by the network port etc.
Structured cabling is one of the most important features of any commercial building and as it is a permanent installation affecting everything on the network, it needs to be installed correctly from the outset, maintained and future proofed accordingly.
The design and installation of a network must adhere to universal standards as set out by the Telecommunications Industry Association (TIA) that specify wiring data centers offices and apartment buildings for data or voice communications using a variety of cable, most commonly (CAT5e), (CAT6) and modular connectors.
HOW DOES IT WORK
The set of standards define how to lay the cabling in order to meet the needs of the customer. The installations will normally utilize a central patch panel (which is normally rack-mounted), from where each modular connection can be used as needed then each outlet is patched into a (rack-mounted) for network use or into an IP or PBX (private branch exchange) telephone system patch panel.
This type of cabling system will usually support multiple hardware systems and be suitable for today's business needs and with the right future proofing, those of the future too.
Used for telephone or alarm installations.
SPEC: Max length: 100m - 100MHZ - Max Speed: 1,000 Mbps (1Gbps)
Category 5e is a popular standard of copper twisted pair network cabling (supersedes Cat 5 predecessor). This cable has less interference and a more enhanced spec and as the gigabit speed of data transmission is adequate for most everyday usage, category 5e networks tend to be the most common and economic solutions for clients.
SPEC: Max length: 55m or 100m- 250MHZ - Max Speed: 10,000 Mbps (10Gbps)
Category 6 cable is designed to perform at frequencies of up to 250 MHz, offers a higher performance than a category 5e cable, has a higher signal-to-noise ratio, and tends to provide a better quality of data transmission. However few applications currently in existence actually require 250 MHz of bandwidth to function therefore category 6 cable is generally installed as a form of future-proofing data networks.
SPEC: Max length: 100m - 500MHZ - Max Speed: 10,000 Mbps (10Gbps)
This cable has double the bandwidth of Cat 6 (500MHz) and performs with far less interference. It is useful where a greater distance needs to be covered – handling up to 100 metres compared with a maximum of 55 metres for Cat 6 cable.
Although double shielded for extra interference protection this cable is considerably more expensive than Cat5 or Cat6 cable but with 600MHz bandwidth capability it is now the accepted standard for ultra-fast Ethernet and could prove to be an effective way to future-proof your network.
This is the very latest and fastest category cable of the Ethernet standard. This is usually recommended for critical applications that need maximum space for data transmission such as hospitals, government offices and large data centres.
OUR DATA CABLING AND NETWORK SERVICES INCLUDE:
Installation Design
Trunking
Data cabling (Cat 5e/6/Cat 6A)
Network infrastructure management
Copper data cabling installations
Wireless solutions
Data cabinets and frame installations
Voice cabling
Patching
Cable tidying solutions
System upgrades
System repairs
Maintenance
All systems tested and in line with compliance requirements