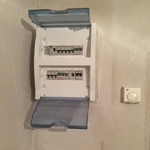 Domestic Electricians Dublin
Here are some domestic electrical services we offer to Dublin's residents:
24hour callouts

Lighting

CCTV

Residential electrical services

24hour callouts
We treat all our clients equally regardless of the intensity of the electrical task and you can rely on us any time of the day or night to fix your residential electrical fault. We pride ourselves on being one of the few Dublin companies that offer a 24hour call out service. We are a dedicated electrical service company and have been working in this industry for years and with our experience, we can handle any electrical job that is out in front of us. We have all the necessary skills for handling all different types of electrical work. All our parts and equipment we acquire are from reliable and trusted dealers to ensure the best quality products and service. You can rest assured that you are in safe hands with us. We are fast and reliable electrical service in Dublin and are very affordable in price. Call us today if you require any further information on all our services and one of our qualified and fully insured electricians will call you back at a time that would suit you best and they will book you in for an appointment for all your electrical work. Get a free no obligation quote today.
Contact our domestic service electricians in Dublin today
Lighting
We install, replace, maintain and repair many different types of lighting systems. Our team of experts are on hand to assist you in choosing energy efficient and affordable lighting solutions. We install all types of fittings from specialist lighting for chandeliers to spotlights.  Call one of our experienced electricians now who will be happy to help you with your lighting solutions.
CCTV
Our team are experts in the design and installation of domestic and commercial CCTV systems. CCTV not only allows you to monitor events inside or outside your premise but could also help to lower your insurance premiums. CCTV systems are now far more advanced than ever before and you can even control and monitor the system from your smartphone. Call us to consult with one of our specialist technicians who can provide advice on the best type of installation for your commercial or domestic premises.
Residential Electrical Services
We offer a broad range of residential electrical services in Dublin from attending to fix a faulty thermostat, repair a broken light switch to installing cooker switches and new sockets. No matter what residential electrical service we offer, one thing will remain constant, the safety of our clients which is why all of our electricians are RECI registered, insured and fully qualified.