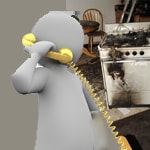 24 Hour Call Out Electricians in Dublin
In Dublin, if you have an unplanned electric fault it can be frustrating and you may require the fault repaired urgently. Don't worry, we are one of the few electrical companies in Dublin that offer electrical callout services at a time that is convenient to you. We always have a team on standby to respond to your electrical emergency. As we are based in Dublin we can get to your home or commercial premises quickly and we carry a fully stocked van so that in most cases your fault can be fixed on the spot.
Reliable Call out Electrician in Dublin
Electrical emergencies that we can help you with include:
General power and lighting failures
Fire alarms and retardant systems
Security systems such as CCTV among others
Critical and essential power supplies
Emergency lighting and evacuation equipment
Main supplies and distribution power
These are just some services we offer. Feel free to contact one of our fully qualified electricians for more information on the types of emergency electrical services provided.
You will be amazed by our quick response times and as we carry a fully stocked van we can almost always repair the fault for you in the first visit.
We look after emergency electrical faults at both commercial and domestic properties so call us now if you are in need of assistance.
Affordable 24 hour electrician
We are available 24/7 and our qualified and RECI registered electricians are always on hand to provide speedy, efficient and affordable repairs when you need it. We are happy to attend emergencies right across the Dublin area and with years of electrical experience we have the professionalism and reliability to deal with your electrical emergency 24/7.
We are a dedicated and the number 1 insured electricians in Dublin, Ireland. We are available for call out services and our work that is carried out is to the highest standards possible. So, if you are looking for emergency repair services today, then give us a call today. Unlike other companies, there is no such thing as a day off for us, making us available 24 hours a day, 7 days a week.